Country selector for administrators/ set-up
In order for users to be able to change the country in their profile, an administrator first needs to enable the countries from the administration page.
To manage countries and region go to ⇒ Administration ⇒ Countries and regions.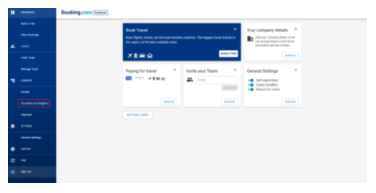 Click on

Add Country or Region

Click in the Country or Region field and

start typing the name

of the location required

Select the required location and click

SAVE

The location is now activated for the Company.
Once the country is enabled by the admin, Travel Arrangers and Travellers will be able to select their preferred location from the dashboard.

When clicking on SAVE: the preferred location will be saved to the user´s profile and the country selector will display their preferred location.
Note: the currency will then match the country users have chosen
Country allocation during booking process for all roles
In case a booking is being made and the country of the user has not been selected, a one-time mandatory prompt on the set-up page will appear in order to select the country.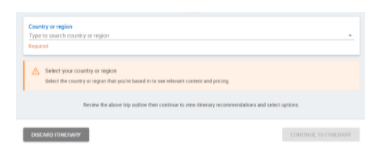 Note: an Administrator will have the possibility to add locations while Travel Arrangers will only be able to allocate the location to the traveller. In case a Travel Arranger does not see the right location they will need to contact the Administrator so they can enable it.